Global Impact
Investing in the future of sustainable business
The India Impact Challenge invites students worldwide to pitch sustainable investment strategies.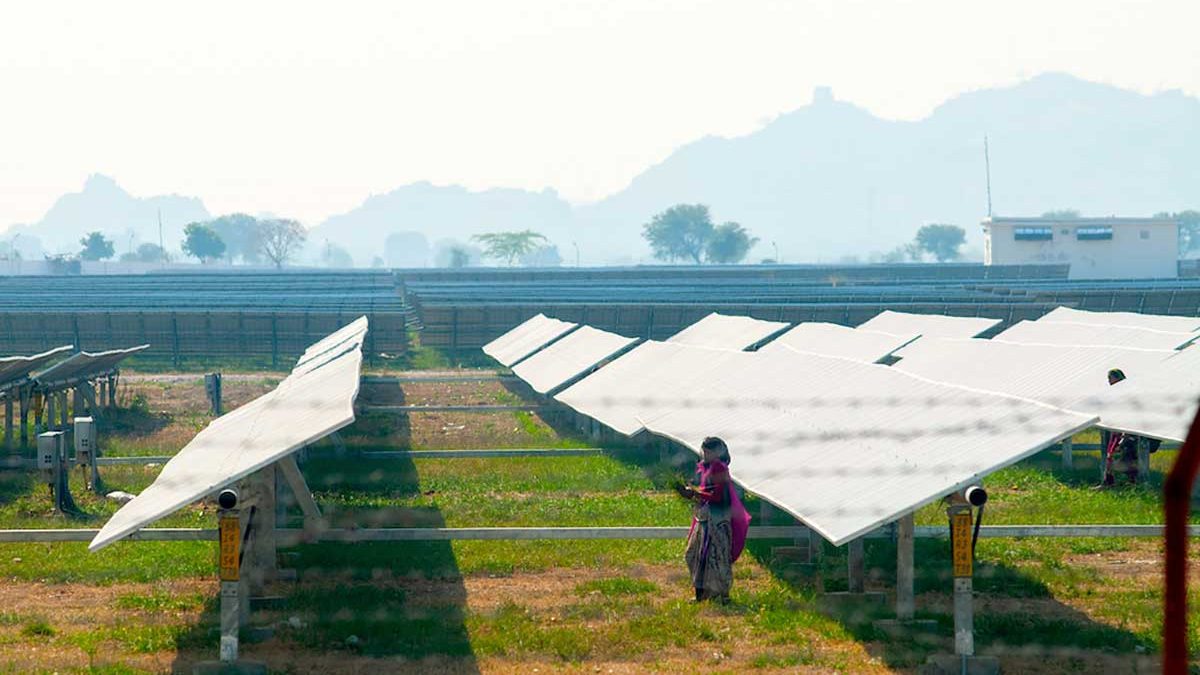 The India Impact Challenge invites students worldwide to pitch sustainable investment strategies.
The India Impact Challenge invites students worldwide to pitch sustainable investment strategies.

Nishitha Karumuri '23, from Charlotte, North Carolina, was raised in an environmentally conscious home. She learned to recycle, shop sustainably and keep her showers to five minutes. After arriving at Carolina, she taught her roommates to recycle. However, it wasn't until this spring, when she served as an intern for the Center for Sustainable Enterprise's India Impact ChallengeOpens in new window, that Karumuri fully understood that sustainability isn't just shorthand for environmentalism — it's also about creating processes that work.
The India Impact Challenge
The India Impact Challenge powered by Quantum Advisors, the latest challenge in the Center for Sustainable Enterprise's Invest for the Future initiative, invited student teams throughout the UNC system and schools around the world to pitch investment strategies to help lower greenhouse gas emissions while supporting economic growth in India. Karumuri's primary role on the intern team was to lead direct outreach to students around the world. In a few short weeks, she and the intern team reached out to about 800 student clubs worldwide, inviting them to join the challenge.
Ten student teams, each with three to five members, participated in the challenge. Pitches were scored on their innovation and feasibility and judged by a panel of business professionals, many of whom are UNC Kenan-Flagler Business School alumni. Because pitches needed to be feasible, teams had to conduct extensive research and talk with real business leaders and investors in India. Pitches from the 10 teams explored a wide range of strategies, such as moving to electric rickshaw vehicles, making port improvements throughout the country, and — the winning pitch, from a student group in São Paulo, Brazil — increasing the use of biomass in place of coal.
"As I was working on outreach, contacting college students all over the world, I really didn't know what the results would be," said Karumuri, who hopes to return and support the center's fall 2021 challenge. "Seeing teams come together from all over the world to produce such amazing pitches was one of the most rewarding things I've experienced. As I watched the pitches I just thought, 'Wow I have to be a part of this again.'"
Hands-on global learning
Karumuri was one of 10 Carolina students from across the University's schools and departments who served as an intern for the India Impact Challenge powered by Quantum Advisors. The student intern team coordinated many aspects of the challenge, like marketing, student outreach, logistics and creating materials to help guide future Invest for the Future challenges.
Karumuri is majoring in health policy management with minors in business administration and urban studies. In the future, she hopes to work in health care administration or hospital management and help improve sustainability within health care. Her teammates came from many other fields, including public policy, environmental science, and journalism and media — many had no connection to the business school.
"It was great working on a team where everyone came from different fields. If we had all come from the same discipline, we would have the same perspective and it wouldn't have been as useful," said Karumuri. "For instance, we needed to do a lot of content creation in our marketing for the challenge, and I don't have experience with that, but our teammates from the journalism and media school were able to lead those efforts and teach the team what needed to be done."
Alumni join the effort
The challenge was sponsored by Mumbai-based Quantum Advisors, whose founder, Ajit Dayal '83 (MBA), serves on the Chancellor's Global Leadership Council and the UNC Kenan-Flagler Board of Advisors. Dayal felt that the challenge was a natural fit for his company, which invests within India and is deeply committed to sustainable business practices. For years, Quantum Advisors has used an integrity screen to carefully review a company's environmental, societal and governance practices before investing.
"The economy is rapidly growing in India and significant investments need to be made into the country's infrastructure, so that India's economic development doesn't lead to major increases in greenhouse gas emissions that could offset the improvements being made in other parts of the world," said Dayal. "The India Impact Challenge encourages future business leaders to think of solving the challenges of climate change by looking beyond their own markets. This is really important, because the entire world will either win or lose depending on whether or not India can lower global emissions to a sustainable level."
Many other UNC Kenan-Flagler alumni participated in the challenge by volunteering their time as judges. Their involvement allowed students to receive valuable feedback from business leaders who have firsthand experience working in sustainability. Chantarella De Blois '16 (MBA) was one such judge. She is vice president at Total Impact Capital, where she works in impact investing.
"Mobilizing the private sector is the only way to achieve real sustainability," said De Blois. "As an India Impact Challenge judge, my main goal was to help students think through how they could make their pitches financially viable, so that they could realistically attract investors. The teams' ideas were impressive, and I enjoyed helping students take them a step further, pushing them to think through how to assess risks, structure financing and build out their pitches to enhance the underlying economics of their proposals."
The competition is over, but the work isn't complete. The intern team is taking what they learned from the challenge to create a guide that can prepare the next group of interns who will work on the fall 2021 challenge, which will use blended finance to address social equity and economic mobility. A team from the UNC Kenan-Flagler STAR programOpens in new window, which matches teams of MBA and undergraduate business students with corporate and other partners to solve their complex challenges, is also partnering with the center to advise on next steps. The STAR team will recommend how insights from the challenge can be used in the future and incorporated into school programs and courses.
The Center for Sustainable Enterprise
The Center for Sustainable Enterprise was established at the UNC Kenan-Flagler Business School more than 20 years ago and is driven by the "triple bottom line" principle, or the belief that businesses can simultaneously improve social, environmental and economic impacts.
"As we train the next generation of business leaders, we want them to understand that sustainability isn't a balancing act in which you're constantly trying to offset impacts. Business can be done in an innovative way that is simultaneously good for people, the planet and profits," said Jeffrey Mittelstadt, professor of practice for strategy and entrepreneurship and executive director of the Center for Sustainable Enterprise. "Training future business leaders to think this way — and on a global scale — is the heart of our center's mission and the reason why we held the India Impact Challenge."
The Center for Sustainable Enterprise hosts a number of student competitions, like the India Impact Challenge, through the Invest for the Future initiative, and holds an annual awards program that recognizes sustainable businesses in the state. The center hired 10 full-time summer interns to work on the Invest for the Future initiative, five of whom are concentrating on expanding coverage of topics from the India Impact Challenge to continue engaging students around the world, communicate their ideas, and provide online resources for students, faculty and practitioners regarding investment in India and emerging markets to address climate change. The center also helps faculty build sustainability programming into their courses and serves students who are interested in sustainability by helping them find relevant courses, internships and other opportunities.
Get involved!
Visit cse.unc.eduOpens in new window to learn more about the Center for Sustainable Enterprise and the India Impact Challenge powered by Quantum Advisors. Industry leaders, alumni and friends of the UNC Kenan-Flagler School of Business who are interested in joining the Invest for the Future Leadership Council may contact Jeffrey Mittelstadt at [email protected]Opens in new window. Council members connect with other industry leaders, students and faculty and will help with planning, engagement, mentorship and collaboration to ensure the relevance, value and impact of the Invest for the Future initiative.