Research
'The Best Decision of My Life'
Chancellor's Science Scholar Jasmine Akoto '22 has conducted research at Johns Hopkins and in three labs at Carolina.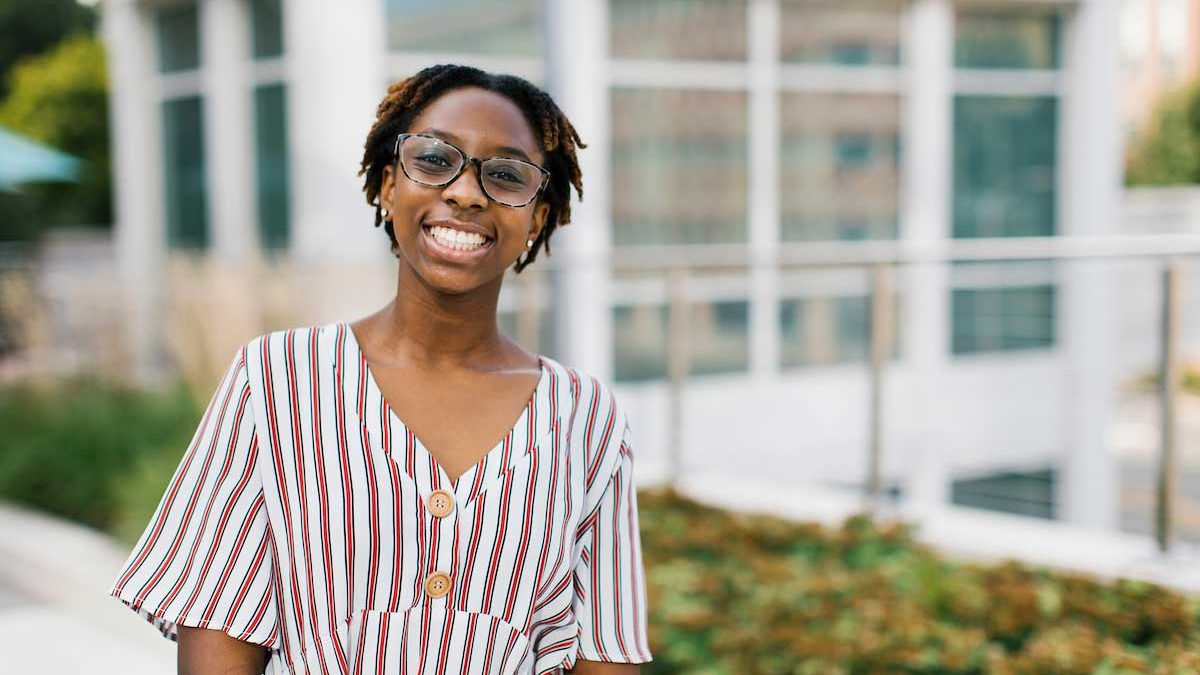 Chancellor's Science Scholar Jasmine Akoto '22 has conducted research at Johns Hopkins and in three labs at Carolina.
Having grown up in the small town of Zebulon, North Carolina, Jasmine Akoto '22 knew she wanted to push outside her comfort zone in choosing where to go to college. She knew she wanted something different from the majority of her 200-person high school class — but she wasn't sure exactly what.
Fortunately, while participating in Governor's School of North Carolina, a statewide residential summer program, Jasmine was introduced to a group of driven students who shared her interests — and to the prospect of attending Carolina.
"I felt like I belonged at that summer program," she recalled. "Many of the people I met wanted to go to Carolina, and this got me thinking: If people like them are going to UNC-Chapel Hill, then it has to be a great school. I just knew I wanted to go, too, because there would be people more like me there, and I would belong."
At the time, Jasmine had never heard of the Chancellor's Science ScholarsOpens in new window (CSS) program. While filling out her application to Carolina, she noticed a section that asked if she was interested in being considered for additional opportunities — including the CSS program.
"Given my interest in science, I decided to seek it out," said Jasmine, a biology major. "I did some research on my own and discovered it was a program dedicated to increasing diversity and inclusivity within STEM. As a minority at a primarily white high school, I was one of the few people who looked like myself who took advanced courses. As soon as I realized what CSS entailed, I knew it was the program for me."
Beyond alleviating the financial burden of college, Jasmine said the CSS program stood out because it would provide entrance into a holistic program that would shape her Carolina experience. As she considered other scholarship opportunities, she asked herself: "Do I want to be on my own and go about college independently, or do I want to join a program that will assist me in achieving my goals for the future?"
Jasmine chose the latter and subsequently, CSS.
"This ended up being the best decision of my life."
Since joining the program, Jasmine has had access to career-developing, life-changing opportunities and experiences.
"When I first came to Carolina, there was so much I didn't know about research. Thanks to CSS, I had the resources and skills to confidently reach out to labs, even as a first-year undergraduate student."
During Jasmine's second semester at Carolina, she began working in Research Professor Rebecca FryOpens in new window's environmental toxicology lab within the UNC Gillings School of Global Public Health. This experience was Jasmine's entryway into research. Through the watch-and-learn method utilized in the lab, Jasmine picked up valuable skills that she will apply to her career in research moving forward.
"Dr. Fry's lab provided me with a great experience, and was the perfect first step into research," said Jasmine. "But as I took more classes, I realized I wanted to study the genetic implications of autism as my main focus. I reached out to genetics labs and ended up in Dr. Patrick Sullivan's lab."
Patrick SullivanOpens in new window, Yeargen Distinguished Professor of Psychiatry and Genetics, is the director of the UNC Center for Psychiatric Genomics, which focuses on the molecular genetics of schizophrenia, major depressive disorder, eating disorders and autism. These areas matched Jasmine's research interests, and she was well on her way to conducting her own research when Carolina made the transition to online learning in spring.
While her personal research remains on pause this fall, Jasmine is working with a postdoctoral researcher in the Eating Disorders Genetics InitiativeOpens in new window (EDGI), the largest-ever genetic research study of eating disorders. Jasmine is currently living on-campus in Chapel Hill and is able to come into the lab and help assemble saliva kits that the research group sends out to study participants.
Jasmine remains eager to pick up her own research, but is excited to work in an environment that so fully embodies the nature of inclusion in STEM-related fields that CSS promotes.
"I really appreciate that my current lab consists of such a diverse group," said Jasmine. "Not only are there women within the lab, there are minorities too. It has been so interesting for me to see this group of successful individuals who also look like me. They are my role models who are showing me that I can get there too — I just have to work for it."
All of the labs Jasmine has worked in are connected to CSS, even one outside of Carolina. With her original research plan for the summer postponed because of the COVID-19 pandemic, CSS helped Jasmine pivot in a new direction that would ensure an insightful and academically stimulating summer, despite the current public health crisis.
"CSS directed me to apply for a summer program through Johns Hopkins University, and I was able to join a research lab that was focused on trying to understand the genetic and neuronal implications of developmental disorders, specifically autism," said Jasmine.
"My main project this summer consisted of me conducting behavioral analyses in mice that had undergone a genetic mutation found in patients with autism. This was really fun because it was based in one of my interests and was the first real research experience that I conducted on my own. I really appreciate my CSS coordinators helping me with this opportunity because I never would have gotten this experience if they hadn't."
CSS has helped Jasmine develop as a student and STEM major while providing a nurturing environment that has enabled her to learn and grow at Carolina. Ever since the program's initial six-week Summer EXCELeratorOpens in new window, Jasmine said she has felt connected to both her cohort and to Carolina as a whole.
"My best and closest friends are CSS members. If it wasn't for this program, would I have built all these relationships that I have now? These are people who are like me; they have the same goals in life. We might make different career choices, but we all have the same goal to become successful, especially as minorities and people who are not seen as much within these fields. Having people around me who are like me and think like me encourages and motivates me.
"The people in CSS aren't just my cohort, they've become my family."
Just as Jasmine anticipated, Carolina — thanks to CSS — has become a place where she belongs and where she is able to become who she wants to be.